Mid-Century Modern Collectors Items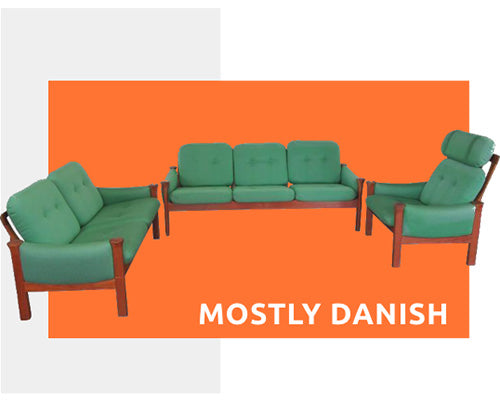 Our collector's items consist of mid-century modern furniture that can be authenticated as a product of famous architects and designers. We are proud to carry items from some of the top names in Danish furniture in our collection such as: Hans J Wegner, Arne Jacobsen, Finn Juhl, Grete Jalk, Borge Mogensen and Ole Wanscher among many others.[O26] It is important to look at the furniture carefully to see if there are any brandings, any evidence from its source, clues to where it was made or who is the designer. It may happen that a piece of furniture you currently own is extremely valuable without any indication of a designer!
Most Frequently Asked Questions
Authentic mid-century modern furniture is characterized by its minimal ornamentation, clean lines, and organic shapes. It is an elegant balance between simplicity and timeless aesthetic, while focusing particular attention on functionality as well. Mid-century modern furniture strayed away from conventional furniture and pushed the boundary with contrasting materials.
The mid-century modern furniture period is often believed to have ranged from th1930's to the 1960's. However, this design period is limited from 1947 to 1957 - where mid-century modern furniture evolved the most and was at the height of its historical breakthrough.
Thorough examination of the furniture piece. Make sure to get a 360 view of the furniture if you are seeing it in person – touch it, turn it over, see every angle. It is important to look at the furniture carefully for branding, manufacturer stamps, or any other evidence of its designer. We suggest bringing in a tape measure to consider the scale and dimensions of the pieces you are looking for. Lastly, do your research and make sure you know what you are looking for!
A definitive feature of mid-century modern furniture was its orange and brown colour. This particular colour combination was a staple of mid-century modern furniture and often resulted in a vibrant and earthy tone. Other common colours for fabrics in the mid-century modern era of furniture included: olive, dark red, a mustard yellow, or a blueish-grey.
The most common woods used for mid-century modern furniture were teak, oak, beech, and plywood. Teak provided a dark, rich, and durable finish. Oak is also known for being strong, but had a slightly paler and lighter colour than teak. A lot of lighter furniture pieces used beech, which heavily influenced Scandinavian movements in mid-century modern design. Any intricate designs and artistic aesthetics were made possible because of plywood, which could be moulded to a variety of shapes and figures.
Narrowing down such an iconic time period in design is difficult. Some pioneers in Scandinavian mid-century modern furniture design that we are proud to carry include: Hans J Wegner, Arne Jacobsen, Finn Juhl, Grete Jalk, Borge Mogensen, and Ole Wanscher.
Sign up for the Mostly Danish Newsletter
Get exclusive deals, new product releases, and contests!