Mid-Century Modern Seating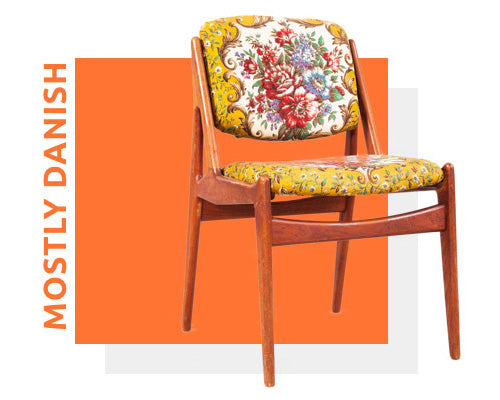 A mid century modern chair, or chairs is the perfect addition to any stylish homes. All the pieces in our collection of mid century danish and Scandinavian furniture are attractive, durable, and unique - giving you the stylish look you've always wanted. All of our mid century chairs have a unique story, meaning you're getting more than just a chair but a piece of art and history. Take a look below at our carefully curated selection of Danish & Scandinavian mid-century modern furniture, consisting exclusively of quality authentic pieces. We offer a wide selection of mid century modern dining chairs, armchairs, accent chairs, and more to give your home or office a stylish touch that will make it stand out. Come visit our Ottawa location or buy online - we ship across all North America.
Most Frequently Asked Questions
The main difference between an armchair and a recliner is the added functionality of a recliner being able to lower the chair's back and raise its front for leg support. Recliner typically have a lever on the side of the chair and can either extend automatically when you lean back or with the use of the lever.
Mid-century modern seating furniture can be commonly identified by its clean lines, functional design, unique mix of muted tones and vibrant colours, as well as a complimentary blend of natural wood and high-quality fabrics.
Hans J. Wegner – The CH24 or Wishbone Chair. A steam-bent solid wood frame and a handwoven seat makes for an iconic mid-century modern chair with a wishbone inspired backrest.
Niels Møller – The 78 Side Chair. An exemplary staple of the mid-century modern seating furniture style. Designed with comfort, simplicity, and functionality in mind.
Børge Mogensen – The Spanish Chair. Made of solid oak and high-quality leather. An elegant blend of function and style that doesn't compromise on comfort.
Grete Jalk – The GJ Chair. An expressive sculptural lounge chair that's created from two folded plywood pieces. A simplistic design that involves a complex construction process.
Arne Jacobsen – The Egg Chair. A masterpiece of mid-century modern and Danish furniture design. The curved shape was very unusual style for its time and it has aged like a fine wine.
Most authentic mid-century modern furniture is made from teak wood. However, a big driving influence of mid-century modern design was mixing and matching organic and synthetic materials to create unique and expressive styles. Materials like plastic, acrylic, and textured fabrics were also popular to create contrasting aesthetics.
Mid-century modern furniture is so unique because of its simplistic and functional design that creates a timeless look. The use of natural wood and warm tones of fabric create furniture pieces that can stylishly bring an interior space together.
Sign up for the Mostly Danish Newsletter
Get exclusive deals, new product releases, and contests!