Outdoor Furniture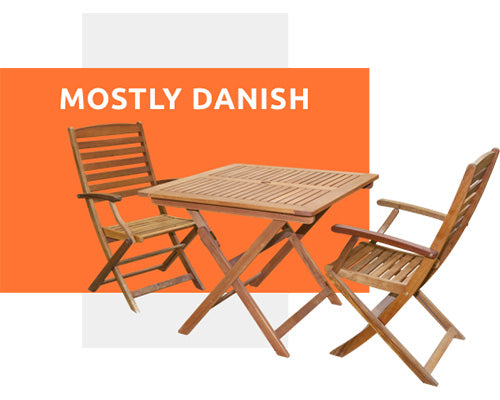 Mostly Danish's outdoor furniture selection is everything you need to bring elegance and class to your yard and porch. All of our outdoor furniture is made from teak, which is strong, weather-resistant, and contains a natural oil preventing the penetration of water and microorganisms which ensures it will last for ages without decay. Teak's durable properties make it the material of choice for expensive yachts as well as high-quality outdoor furniture. On top of being extra durable, our teak patio furniture will bring a touch of classic mid-century design to your yard. We ship our teak furniture to Toronto, Montreal, and all of North America for your convenience. Check our selection of outdoor teak furniture furniture today and enjoy your patio and yard in style!
Most Frequently Asked Questions
Teak is a special wood found in South & Southeast Asia. Teak contains a natural oil which repels water, keeping it from warping, cracking, or rotting. Outdoor furniture made with teak will withstand damage from rain, snow, and sun. Because of these durable properties, teak furniture is commonly found at high-end ski lodges throughout the world.
As a general rule, outdoor teak furniture does not require paint or varnish. Teak's high natural oil content ensures it has a beautiful, even colour which will stand the test of time. If you would like your outdoor teak furniture to have a reflective sheen, you can apply a natural teak sealer.
Outdoor teak furniture does not require any special maintenance, apart from the occasional cleaning. To clean your teak furniture, we recommend you gently clean it with diluted soft soap.
At Mostly Danish in Ottawa we buy and sell authentic mid-century Danish and Scandinavian furniture. We carefully curate authentic pieces from well-known designers including; Arne Jacobsen, Hans J. Wegner, Kai Kristiansen, Grete Jalk, and more. All of our pieces are professionally authenticated by experts to guarantee that your piece is authenticate.
View our full collection of mid-century furniture at our Ottawa location or call us to speak with our team at (613)291-2204.
Our experts can help with full repairs to any damaged mid-century furniture pieces. We also refinish and reupholster pieces that have been worn over time. We can help you to bring the life back to your piece so you can enjoy it for years to come.
Contact our experts to properly assess and begin the restoration process for your piece today.
Sign up for the Mostly Danish Newsletter
Get exclusive deals, new product releases, and contests!