Danish Office Furniture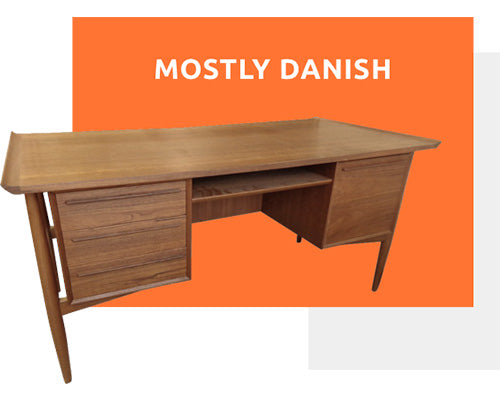 Mostly Danish offers a variety of Ottawa office furniture, including desks, conference tables, office chairs, shelving & more. With the increase in the need for home offices Mostly Danish has increased their Ottawa office furniture inventory to help our customers create an office that meets their specific wants and needs. Even without a passion for mid-century modern Danish furniture you are sure to find the perfect office furniture for you space. See our inventory below and find the perfect office solution for your home or work today. Convenient shipping available across Canada and the United States, contact Mostly Danish today for more details.
Shop By Categories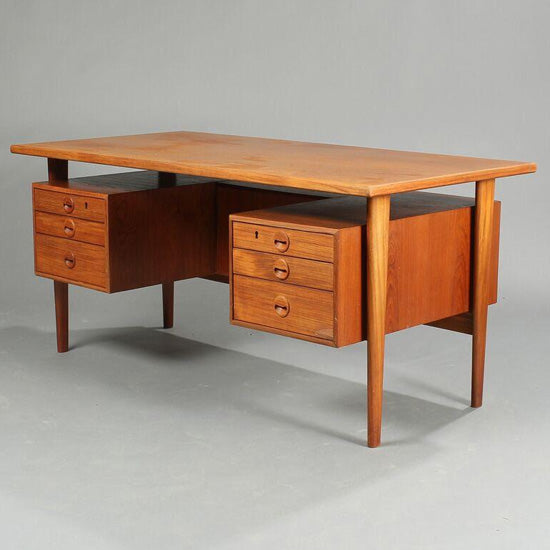 Danish Desks & Tables
Browse through our wide range of Danish desks and tables that vary in style, function, and size. Transform your workplace with Danish design.
If you are looking to complete your work area in your home or office, we have the solutions for you. Our wide range of styles will provide you with the fit you are looking for. From personal writing desks, to large conference tables, we have you covered. Our desks are not only functional but have the classic Danish design features and flare to transform your workspace. We proudly offer items from notable designers such as Arne Voddler, Christian Hvidt and Børge Mogensen. We offer convenient shipping to Toronto, Montreal and all across North America.
View Collection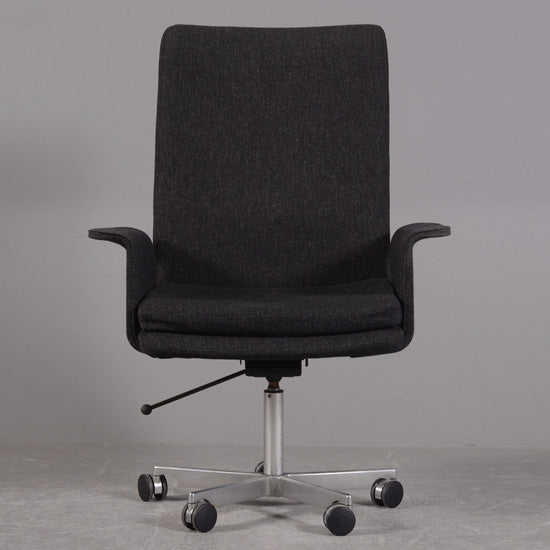 Danish Office Chairs
No more compromising on style or comfort in the workplace. Get the best of both worlds with unique Danish office chairs that fit your workspace.
Be in comfort and style at your workspace with a chair that fits your personality and design goals. Our Danish chairs come from a wide range of designers and shout that classic mid-century modern look. We have opulent leather chairs to impress and fun and bold chairs that make a statement. All hold the high standard of quality and craftsmanship the era is famous for. These chairs will keep you and your office comfortable and looking good for years to come. Convenient shipping available to Vancouver, Toronto & Montreal and across North America.
View Collection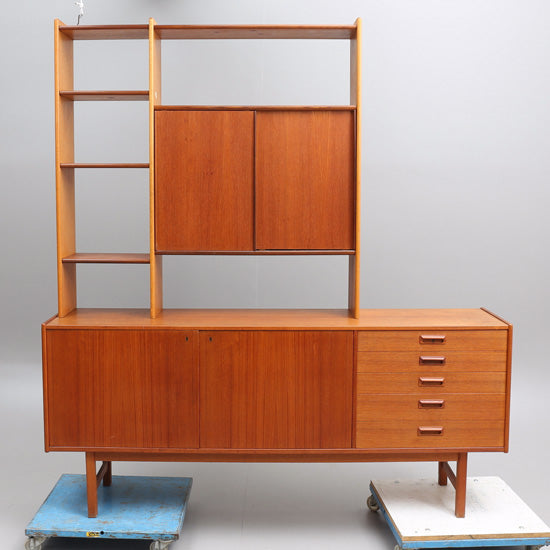 Office Storage & Shelving
Keep your workspace organized with our unique selection of Danish and Oriental storage/shelving furniture. Storage space has never looked this good!
Finish your office with one of our office storage selections. Impress clients or your friends with elegant storage options with Danish or Oriental designs. These items do not just look good but also offer plenty of room to organize and display your favourite items. These units are unique, high quality and made by expert craftsmen. Our teak cases and shelving will last for years and years to come. Come and see our collection for yourself at one of our Ottawa showrooms. Convenient shipping to Toronto, Vancouver Montreal and all of North America.
View Collection
Most Frequently Asked Questions
Though there is a fair amount of variety within the mid century modern design movement, there are nonetheless characteristics which define them. Mid century modern furniture came do be during the modernist movement in the post-war period, ending in the mid-60s
Clean lines
Function over form
Minimal ornamentation
Neutral and bold colours
Contrasting materials and textures
The mid century modern period is defined by experimentation with different shapes, materials, and ways of building furniture. The results of this experimentation is a wide variety of shapes and styles of chairs, especially for office furniture. In the mid century modern era, and still today, offices were places where people made statements by choosing unique and stylish office furniture. If you are looking to make a similar statement in your own home, check out our wide variety of scandinavian mid century modern furniture.
Unlike some other styles of furniture, mid century modern furniture is easily incorporated into a wide variety of office designs. A piece or two of mid century modern can give your office space a touch of style reminiscent of "mad men". Mid century modern office furniture pairs especially well with colourful statement pieces as well as plants such as ferns. Because of their mostly neutral tones, you can combine mid century modern furniture with a wide variety of furniture from other periods.
Mid century modern furniture is very durable. These desks are solid pieces of natural material and wood, and have durable finishes. They were made by expert craftsmen with processes which respected the materials and with the intention of lasting for ages. Furniture bought today is by and large much less durable than no In short, mid-century desks are a timeless piece of home office furniture.
While the mid century modern movement largely originated in the United States, the Scandinavians were the masters of mid century modern furniture, particularly the Danish. Danish and Scandinavian style at the time and today is defined by a simple minimalist aesthetic which went perfectly with mid century modern designs. At Mostly Danish, as our name implies, we are particularly enamored with Danish mid century modern furniture as we consider it to be the cream of the crop. Danish designers and furniture builders from this period were extremely skilled and produced some of the highest quality furniture. If you are looking for a piece of high quality furniture for your office, a danish mid century modern piece will be the perfect touch.
Sign up for the Mostly Danish Newsletter
Get exclusive deals, new product releases, and contests!