Mid-Century Modern Tables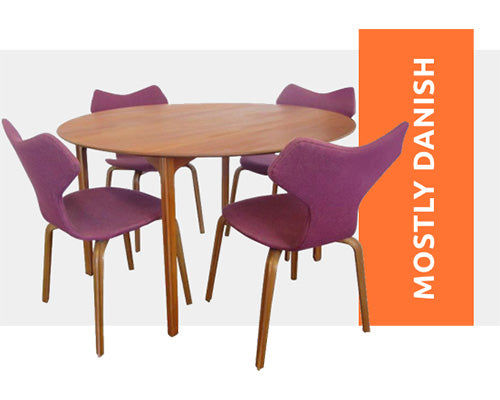 Mostly Danish offers a variety of table forms, such as dining tables, coffee tables, console tables, night tables and more, to help complete or transform any living room, dining room or space in your home. Our tables are some of the best examples of the quintessential mid-century Danish design. Light and minimalist forms with a priority on function. We pride ourselves on the quality and variety of our tables and assess every piece of furniture in our showroom. See our inventory below and find the perfect furniture for your home today. Convenient shipping available to Toronto & Montreal and across North America.
Most Frequently Asked Questions
While consoles and side tables have some similarities, they also have differences which define them from each other. A console table is wider, more shallow, and taller than most side tables. Because of this, console tables are typically placed against a wall. When console tables are placed against a sofa they are called (rather unsurprisingly) sofa tables. Sofa tables should not be taller than the sofa they are placed next to. Consoles/Sofa tables typically have a top surface which is supported by corbels or brackets. They are not designed to be stand-alone surfaces, and should be placed against a wall or sofa. A side table on the other hand is a table which is placed on the side of a sofa or piece of furniture a person would sit on such as a chair, or bed. The main purpose of a side table is to make sure that essential items are within easy reach. Side tables are convenient as they allow you to place the remote, your drink, book, or anything else as you sit.
Mid Century modern tables are tables which were designed in the middle of the 20th century, typically between the mid 1940s to early 1960's. The mid century modern movement is part of the larger modernism movement which defines the period. It is typically characterized by clean, simple lines, honest use of materials, and a lack of decorative embellishments. Mid century modern tables will typically be simple, have neutral tones, and look great in a wide variety of settings. Mid century modern tables are also characterized by their quality of the craftsmanship. Scandinavian mid century modern designers placed a huge emphasis on building durable tables with quality materials which stand the test of time. Mostly Danish has a large variety of mid century modern tables made from the most reputed designers of the era. When you buy a table from Mostly Danish, you know that you are buying quality genuine furniture which will look amazing in your home.
Most mid century modern tables are made using wood, typically in lighter hues. That being said, mid century modern tables are not exclusively made from lighter woods, with many beautiful items also being made from darker woods. A large number of these tables were made with neutral colours, which never go out of style. Mid Century Modern designers were at the forefront of the design movement at the time and they often experimented with other materials which were new at the time, such as plastic, formica, and acrylic.
Because their designs are so clean and simple, mid century modern tables can be easily incorporated into your homes style. Mid century modern tables and furniture are frequently combined with antiques furniture and pieces from other periods, as well as with more contemporary items. Many homeowners like to combine the simplicity of mid century modern tables with pieces which have a colour pop. Mid Century modern tables also look great when used in rooms with green plants such as ferns, giving it a classic look which is just as fashionable today as it was in decades past.
Yes we do! At Mostly Danish, we are experts in repairing and restoring mid century modern furniture - even your tables. No matter what kind of damage or wear and tear your table or furniture has suffered, our expert furniture repair pros will be able to make it look as good - or better than - new. If you have a table or piece of furniture you would like repaired, contact Mostly danish today!
Sign up for the Mostly Danish Newsletter
Get exclusive deals, new product releases, and contests!