Oriental Furniture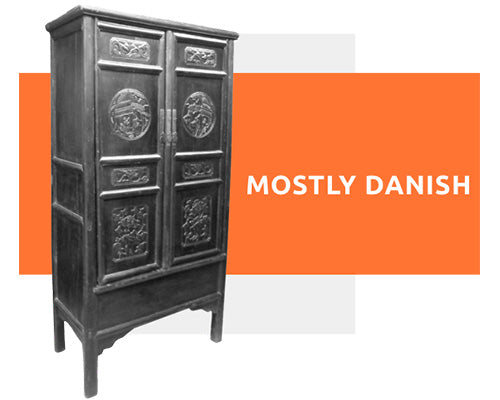 Looking to get a unique piece that will add character to your home? Take a look at our collection of antique Chinese furniture. Antique Chinese furniture was all made by hand by highly skilled craftsmen who were commissioned by each customer. Whether you are looking for an antique Chinese cabinet, bookshelf, console, or any other piece, Mostly Danish has an extensive collection of antique oriental furniture which is sure to look great in your stylish home. Handcrafted antique Chinese furniture is of exceptional quality and uniquely designed, built, and decorated. With antique Chinese furniture, only the finest pieces of wood were used. The joinery is exceptional, using different variations of mortise and tenon joints and dove tail for the drawers, rarely resorting to glue or nails but remaining very sturdy. The ingenious Chinese designs are usually very simple, but wonderfully ornate. Oriental furniture from this time period was one of the largest sources of inspiration for Scandinavian mid-century modern furniture designers, and have changed the way we make furniture. If you are looking for a unique piece to bring a touch of elegance, class, and style to your home, scroll down and take a look at our unique collection - you are sure to find the perfect piece. We are located in Ottawa and can ship across North America.
Most Frequently Asked Questions
Yes they are. Antique Chinese furniture was rarely if ever mass-produced. Each piece was typically commissioned by individual customers with specific requirements for size, design, and materials. When you buy a piece of antique Chinese furniture from Mostly Danish you are getting a unique, original, and high-quality piece which will look great in your home.
As mentioned in the previous question, one of the main defining characteristics of antique chinese furniture is that each piece is unique. Antique chinese furniture was made mostly by hand with some pieces featuring beautiful ornate carvings. Another defining characteristic is the joining they commonly used, called the tenon-and-mortise structure. This allowed pieces to be joined together without the use of glue or damage from nails. Many antique chinese cabinets also feature removable doors, setting them apart from other styles at the time.
When they were first built, antique chinese cabinets were used to store pretty much anything and everything. Cabinets were the primary means of storage in Chinese households at the time, containing whatever the owner wanted stored and out of site for whatever reason. Whether they were to store clothing, books, cooking utensils, paintings, or anything else chinese cabinets held it all. Today you can use antique Chinese cabinets much in the same way. So long as it fits, you can store it in your antique chinese cabinet!
A Chinese wedding cabinet is a general term used to describe large armoire type cabinets with two large doors and shelves. As the name suggests, wedding cabinets played an important part in the bringing together of two households by marriage. That being said, not every "wedding cabinet" was given as a wedding gift. Typically, true wedding cabinets will have paintings of butterflies, flowers, or children covering the doors and frame. Whether or not they were truly used as part of a marriage, Chinese wedding cabinets are beautiful, practical, and stylish.
There are a number of ways you can incorporate antique chinese furniture into your home or office. Antique chinese cabinets are excellent accent pieces which go well with a wide range of styles ranging from more classic to contemporary designs. In a more modern home, the contrast of old and new elements, simple and ornate, create a beautiful design which is sure to delight all those who see it. In more traditional homes, antique chinese cabinets go especially well in rooms with other dark wooden elements to compliment it. Antique chinese consoles are seamlessly incorporated into mid century modern homes, which is no surprise considering much of the inspiration for this movement in furniture design came from China. Browse our selection of antique chinese furniture today and find a piece which will fit perfectly in your home.
Sign up for the Mostly Danish Newsletter
Get exclusive deals, new product releases, and contests!