Sideboards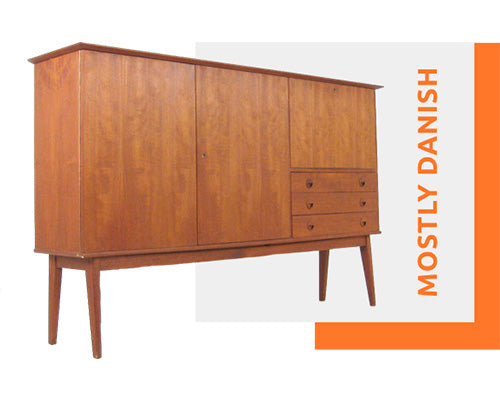 Though sideboards - also called buffets - were originally intended as additional serving surfaces for dining rooms look amazing and are a perfect storage solution for any room in your house. Sideboards perfectly reflect the two principles central to Danish design - simplicity married with functionality. At Mostly Danish, our mid-century  sideboards are made of the highest quality woods and materials crafted by experts. Sideboards typically range from 4 to 7 feet wide with a variety of heights. Sideboards are a great way to reduce clutter and give your space a fresh, clean mid century modern feel. Keep your dishes or other items perfectly organized, use it as a serving surface, or put it underneath a window for extra surface and storage space - the choice is yours. Just make sure when you buy a sideboard, you get a beautiful, authentic mid-century modern piece. We ship our sideboards to Toronto, Montreal, and across all of North America. Browse our selection today.
Most Frequently Asked Questions
Credenzas, buffets and sideboards are all large, decorative containers, outfitted with cabinet-like doors and large storage sections. They are often placed in dining rooms for storing and serving dishes and food. The difference Buffets are usually larger than sideboards, and sideboards are defined as having shorter legs. A credenza is similar to a buffet or sideboard, however historically they are defined by having no legs. In most cases the terms can be used interchangeably.
Traditionally sideboards and buffets were used in the dining room to serve food, display serving dishes, and storage. Nowadays sideboards and buffets are being used in a wider variety of applications. Today sideboards are usefused to create work spaces, toy storage, collection display, bedroom storage and so much more.
Some of the most popular sideboards today are mid century modern sideboards. Mid century modern sideboards are defined by the same characteristics which defines the mid century modern design movement in general - simplicity, superior craftsmanship, clean lines, wood and natural finishes, and tapered legs. It is because of these characteristics that mid century modern sideboards are so popular.
Yes they are. Mostly Danish buys and diligently restores authentic mid-century modern furniture. We have a passion for unique Danish furniture, as Denmark was home to some of the most influential designers of the mid century modern era. We do not sell replica or imitation mid century modern furniture, we exclusively sell high-quality and are the largest North American dealers of mid century modern furniture.
In addition to selling high quality mid century modern furniture, the experts at Mostly Danish are able to repair and restore your furniture. If you have a sideboard which means a lot to you but has been damaged or suffered from wear and tear, contact us today. We can get your sideboard back to looking as good as - or better than - new.
Sign up for the Mostly Danish Newsletter
Get exclusive deals, new product releases, and contests!