Cleaning & Caring for Your Patio Furniture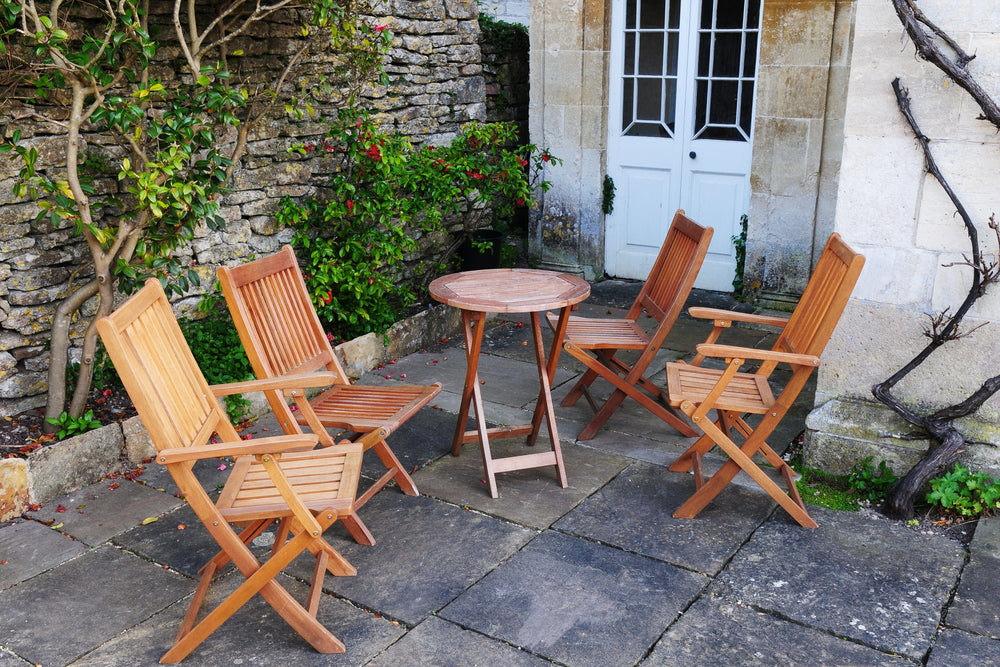 If you've invested in
high-quality
outdoor furniture, you want to make sure it lasts for several years! Year-round, there are several steps you can take to
clean and care
for your wood furniture. 
Whether they've gotten dirty or dusty due to nearby construction or you're starting to put things away in preparation for winter, use our guide to cleaning and caring for your patio furniture to get started. 
Cleaning Teak Wood Patio Furniture 
Although teak wood naturally resists decay and protects itself against the elements, it still might be susceptible to stains or mildew growth. 
To clean your teak wood furniture, we recommend scrubbing it down with a solution of warm soapy water and a splash of white vinegar or bleach.
It may be tempting to try and use a pressure washer to remove any tough stains or to get the job done quicker. However, a pressure washer can actually strip away the wood's natural, protective oils. 
If you do encounter stubborn stains, you can lightly sand the area with a fine grain sandpaper in the direction of the grain. 
Maintenance Tips for Teak Wood Furniture 
Over time, teak furniture will start to develop a grey hue. You can preserve the original colour by using some teak sealant. 
If you're planning to seal your teak wood patio furniture, leave it in the sun for two weeks to open up the grain. Apply a layer of sealant and rub into the grain using a lint-free cloth. Sealing teak furniture will allow you to preserve the golden colour and slow the impact of weathering. 
Another way to slow the weathering and maintain the colour, is to keep the furniture out of the sun as much as possible. The sun has a bleaching and dehydrating effect on wood furniture. 
Storing Patio Furniture in the Winter
Extreme temperatures can cause damage to your furniture if left exposed for too long. We recommend placing covers over your furniture after fall to protect them from winter weather. 
Any cushions or fabric attachments should be removed from the wood furniture and stored indoors. If you leave them outside, or somewhere where they can get wet, they may start to develop mildew or mold. 
Outdoor Furniture in Ottawa from Mostly Danish
Mostly Danish is Ottawa's trusted source for high-quality wood furniture. We offer a wide selection of outdoor furniture to help you bring elegance and class to your outdoor spaces. 
All of our outdoor furniture is made from teak wood which is strong, weather resistant, and long-lasting. It contains natural oil that prevents water from seeping into the wood and causing decay. 
Visit our furniture store in Ottawa or explore our collection of
patio furniture online
. We ship to Toronto, Montreal, and all of North America. If you have any questions about our outdoor patio furniture,
contact
us today!