Creating a Mid-Century Modern Living Room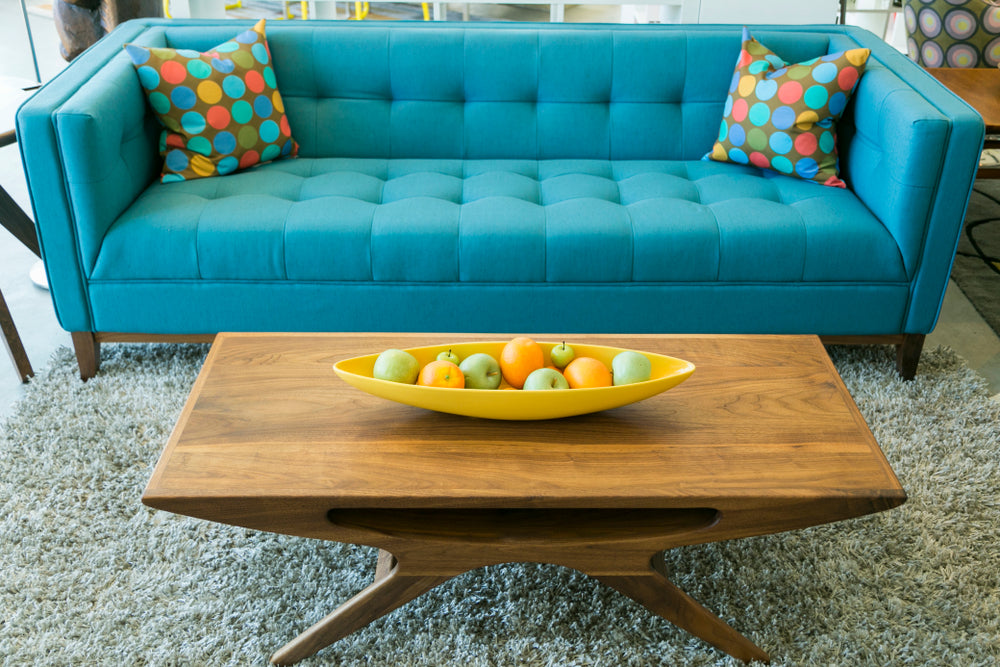 Both timeless and stylish, the mid-century modern aesthetic has been incredibly popular and will remain so for many years to come.
Mid Century style, which was introduced in the 1950s is an aesthetic that continues to influence modern art, architecture, and technology. Characterized by clean lines, unusual patterns, and biomorphic forms, this design pairs well with many other styles while maintaining a contemporary feel.  
While some homeowners commit to a fully mid-century modern home, anyone can easily incorporate this elegant style into their living room with a few simple improvements. Read on for our best tips to achieve the mid-century modern look of your dreams.
Choose a Strong Colour Palette
Nothing says mid-century decor as much as a strong colour palette.  
Implementing bold colours to an interior space can be a challenge and may look tacky when not done right. Saturated colours, such as tangerine and avocado, can create a statement look and are easily combined with earthy or neutral tones.  
For example, you can incorporate a tangerine-coloured sofa with blue cushions or brown armchairs with green walls.
Avoid Oversized Furniture
The mid-century modern style is all about achieving a clear look, and having oversized furniture can make your space look cluttered.
Instead, opt for smaller options such as low-profile armchairs and sofas, which will free up visual space and make the area feel more inviting. Furniture with slimline legs also gives the illusion of a larger space while looking sleek and modern.
Texturize
In the 1950s and 1960s, homeowners were looking to create a futuristic style without letting go of traditional elements.  
This resulted in the creation of chic patterns and textures that also added a homey element. By incorporating textured fabrics such as tweed, twill, and broadcloth, your living room will feel cozy and fashionable at the same time.  
However, be sure not to include a lot of different textures and patterns at once as it can feel a little excessive and achieve the opposite effect you want. 
Invest in Wood Furniture
Despite the innovation of new materials such as plastic, fibreglass, and laminate, wooden furniture was widely popular throughout the mid-20th century. 
Designers favoured hardwoods such as cherry, teak, and maple when creating furniture due to their beauty and durability. Even today, wooden furniture is being used to add charm and character to plain living rooms.  
The best part about having authentic wooden furniture is that 10 years down the line you can get your pieces restrained to look brand new. To contrast all the brown wood, make sure you add in plenty of pops of colour or accents of white.
Create Your Dream Mid-Century Modern Living Room
Mid-century modern designs deliver an unrivaled timelessness and nostalgia that's hard not to fall in love with.  
Our selection of designs is handpicked from sources recognized around the world for their simplicity, elegance, and airy forms. At Mostly Danish, almost every piece of furniture is unique and has its own story. We take pride in being the largest North American dealer of Mid-Century modern furniture.
Visit our warehouse today and don't hesitate to contact us if you have any questions or concerns.