Mid Century Modern Style Tips for Your Home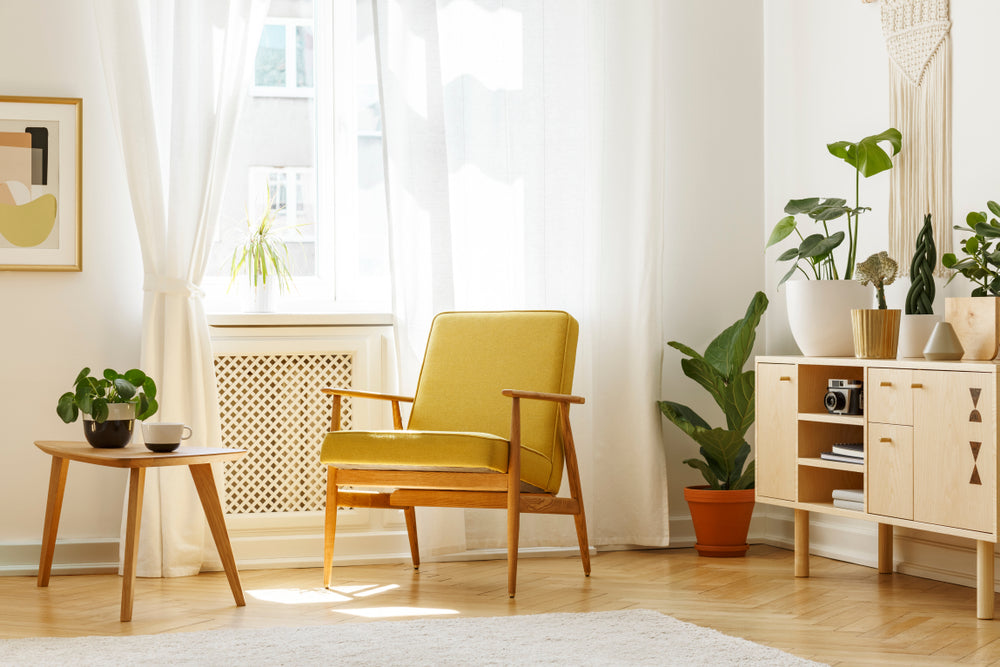 Mid-century modern interior design has been prominent in the design community since right after the Second World War in 1945.
Its clean and overall simple style captured the attention of designers across the globe. Nowadays, mid-century modern interior design influences are still prominently used all over the world!
4 Mid-Century Modern Interior Design Tips
Mid-century modern interior design is still one of the most popular styles of design in North America and Europe.
We have seen mid-century modern design executed in a wide range of ways over the years. Due to the versatile nature of mid-century modern design, we have decided to break down the top four tips to this style of design to get your project off to a good start.
Incorporate Wood Tones
Incorporating natural wood tones into your interior design is an extremely simple and effective way to showcase mid-century modern design. For example, a solid wooden table or a wooden book case are excellent options to create a natural and clean feel to the space. We recommend not repainting the wooden furniture to preserve its natural look.
If you are looking for assistance finding the right wooden furniture for your space, do not hesitate to contact us today. One of our designers will be more than happy to help!
Opt For An Open Layout
An open layout is one of the most effective things that helps contribute to a mid-century modern aesthetic. If you are able to find a space with a high ceiling and an open concept layout, all mid-century modern touches you add to the space will only accentuate the openness and overall clean feel of the space. Big windows also help create a more natural and welcoming feel to a space, making it a classic mid-century modern layout.
Strike the Right Balance - Choose the Right Pieces
It is important when selecting mid-century modern pieces, that you don't overdo it. Your space shouldn't look like a mid-century modern museum from the 1960s! Make sure to be selective with the pieces you incorporate into your new remodeled or redecorated spaces. A few statement pieces will bring the room together extremely effectively! Trust our team of trained experts to help you find the right statement pieces to rejuvenate your home.
Maintain Clean Lines in Your Design
One major staple of mid-century modern interior design is geometric lines. Maintaining clean lines in your furniture and overall layout of your rooms will give them a very clean and welcoming feel. Since most furniture in this style is either natural woods, or whites, it gives the room a very open and airy feel when everything works together cohesively. Choosing sleek, geometric furniture will revolutionize your interior design game.
Mostly Danish - Your Mid-Century Modern Experts!
Mostly Danish have been mid-century modern furniture experts for over 10 years! Our team carefully curated our inventory of mid-century modern furniture, so you can rest assured you are only seeing the highest quality pieces on the market. Our team of designers have a keen eye, and can help you put a room together in a simple and efficient manner.
Allow yourself to embrace the full potential of your home by trusting Mostly Danish to assist with your new mid-century modern redecorating project. Contact us today to get started!