The Origins of Mid-Century Modern Furniture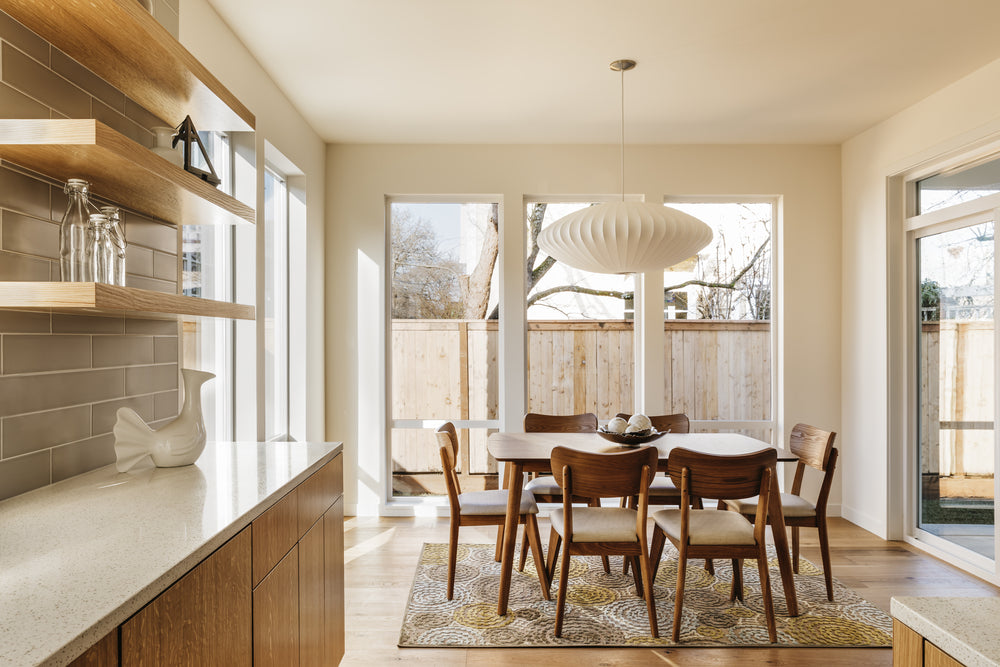 It's no surprise that the world is obsessed with MCM (Mid-Century Modern) furniture.
The enduring popularity of this style is based on many factors, such as organic, gentle curves, clean lines and a love for different materials.
But where did it all start? Read on to learn why Mid-Century Modern designers and their pieces are still idolized today in Ottawa and the entire globe.
Mid-Century Modern Furniture: the Origins
The style known as mid-century modern first appeared in the middle of the 20th century, generally between the 1930s and the 1960s. This movement is distinguished by clear lines, straightforward shapes, and the use of organic materials like metal, leather, and wood.

Furniture from the mid-20th century can be dated back to a number of causes. The Bauhaus movement, which started in Germany at the turn of the 20th century, was one of the major influences. The Bauhaus was a design school that placed a strong emphasis on the integration of art, craft, and technology. Its lessons had a significant influence on the growth of modernist design.

Cara Greenberg, a writer and design historian, first used the phrase "mid-century modern" in the middle of the 1980s. "Mid-Century Modern: Furniture of the 1950s," a book by Greenberg that included mid-20th-century furniture and design, was published in 1984.

The furniture and design aesthetic of the 1950s, typified by clear lines, organic shapes, and an emphasis on efficiency, was referred to as "mid-century modern" by Greenberg. Modern refers to the early 20th century modernist design movement, whereas "mid-century" refers to the middle of the 20th century.

If you want a classic but iconic design, don't miss out on Mid-Century furniture.
Scandinavian Furniture & the Mid Century Design Movement
The mid-century modern design trend was significantly influenced by Scandinavian furniture as well. Scandinavian designers like Arne Jacobsen, Hans Wegner, and Alvar Aalto had a significant role in establishing the look of mid-century modern furniture.

Mid-century modern furniture is characterized by its use of natural materials, utility, and simplicity, all of which are hallmarks of Scandinavian design. In line with the post-World War II economic boom in the United States, Scandinavian designers likewise put an emphasis on producing items that were inexpensive and accessible to a wider audience.

By the mid-2010s, Canadians' love for Danish furniture was in full swing. By 2016, the term hygge (acknowledging a charming or special feeling or moment) was so popular that the greatest newspapers had to run explainers on the concept.

Many reasons contribute to mid-century modern style's resurgence in recent years. Those looking for a classic yet contemporary look frequently choose this fashion because of its ageless charm. Mid-century modern design has also become a desirable alternative for individuals interested in environmentally responsible design as a result of the emphasis on sustainability and eco-friendly materials.

With many merchants now selling reasonably priced replicas of well-known mid-century designs, mid-century modern furniture and décor have also became easier to find in recent years. Customers now find it simpler to add the look to their homes without going over budget.

The love for the Scandinavian lifestyle, combined with the demand for modern furniture, resulted in a newfound appreciation for North European interiors, which prioritize natural materials, clean lines and timeless, durable furnishing.

Craftsmanship and quality were hallmarks of the MCM era, and the interiors are as much about a lifestyle as they are a look. Practical and disciplined, it's no coincidence that Mid-Century Modern design became trendy at the same time as Marie Kondo's decluttering techniques.
Danish Design in Canada
Seeing an opportunity, manufacturers and retailers placed their chips on Nordic furniture.
Originally, Scandinavian mass-produced pieces were meant to be simple, democratic and accessible. However, as the consumers became enlightened, they started to demand better quality.
Buying genuine Danish furniture nowadays is an investment, but there are several compelling reasons to buy original, vintage piece over a cheap reproduction.
Together with superlative quality, Mid-Century Modern furniture is characterized by its retained value due to limited availability.
The furniture you buy today can be sold to another collector down the line in the future, usually for a profit.
Mid-Century Modern & Scandinavian Furniture in Ottawa & Across Canada
At Mostly Danish, we have the country's largest inventory of Mid-Century Modern furniture.
We handpick designs from sources that are recognized all over the world to bring our clients in Ottawa the finest pieces of furniture from designers like Hans J. Wegner, Finn Juhl, and Arne Jacobsen, among others.
If you have a piece in mind or want to shop for a room or whole home, get in touch with Mostly Danish today.