Why You Should Invest in Quality Outdoor Furniture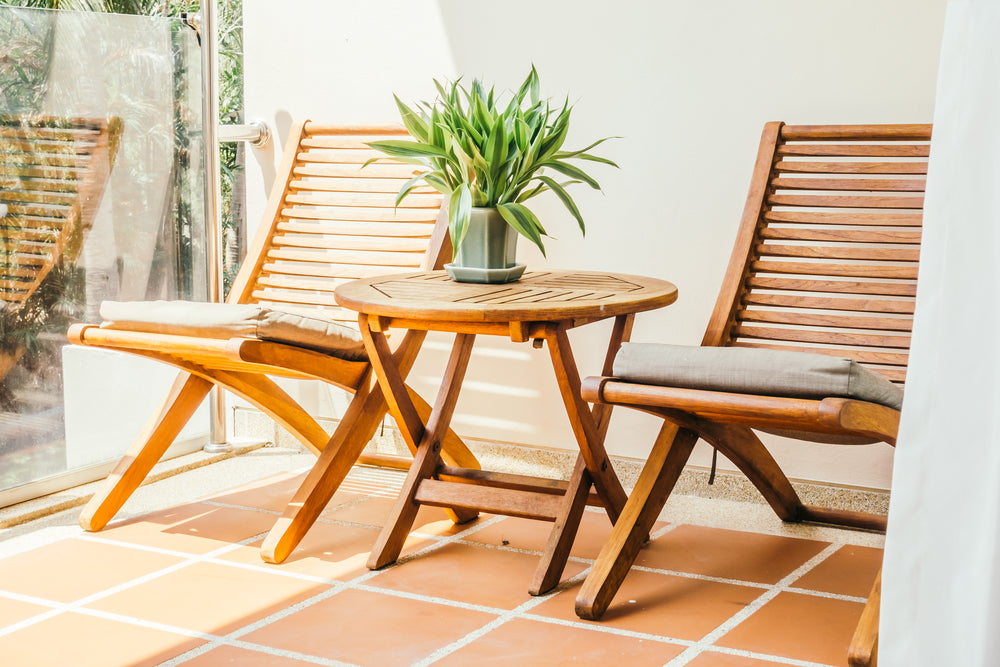 It's summertime again here in Ottawa and across Canada.
With a pretty short window for summer sun, fun and relaxation, it seems like everyone wants to make the most of their summer enjoyment.
If you have a house – or even a balcony or rooftop – you know the value of spending time at home, outside, eating a meal, enjoying a cold beverage and soaking in those precious rays.
When it comes to outdoor furniture in Ottawa, especially teak outdoor furniture, you won't find a better selection than at Mostly Danish. Read on to find out how investing in quality outdoor furniture and teak furniture can translate to years of outdoor enjoyment at your home.
Cheap Outdoor Furniture vs. Well-Built Outdoor Furniture
Outdoor furniture in Ottawa often ends up being an afterthought.
We've invested in buying or renting our homes, then decorating the interior to match our styles.
But what about the patio or backyard? Why not make that match your taste in design and reflect how you value quality?
The Temptation of "Less Expensive" Outdoor Furniture
Sure, it might seem tempting to spend a little less on outdoor furniture.
But the old saying "you get what you pay for" rings true for outdoor furniture, teak furniture and pretty much all furniture.
The big box stores (we won't name them here, but you know who they are) advertise outdoor furniture in Ottawa and online with tempting prices. It's really hit and miss, however, when quality and durability are brought into the equation – thanks to the inferior material & build quality of many of these "cheap" brands of outdoor furniture.
How long will that cheaply made outdoor lounger, patio chair or dining table last? A season or two, maybe?
Bear in mind that Ottawa outdoor furniture is exposed to a whole range of elements. There's rain and wind in the spring and summer months; and, unless you put your outdoor furniture into storage for the winter, it will be vulnerable to ice, snow and very cold temperatures.
Add to that the wear and tear that outdoor furniture takes with normal use, and chances are you'll find yourself in the market for outdoor furniture in Ottawa once again in a couple or few years' time.
Instead, Invest in Quality, Durable Outdoor Furniture
By spending a little more up front, you can obtain attractive, well-built outdoor furniture in Ottawa – or wherever you are located in this great land of Canada – you'll get better use of your outdoor furniture, for longer periods of time, with an aesthetic that will make you and your family happy.
Teak outdoor furniture is an especially good investment, both for its aesthetics as well as for its quality of parts and labour.
Teak furniture is timeless, having stood the test of the elements and of demanding furniture owners around the world. Outdoor teak furniture is built solidly, and comes in a full range of choices:
Outdoor teak loungers
Teak chairs
Outdoor teak dining tables
And much more.
By investing a bit more in your outdoor furniture, you're getting a better return on your money and more enjoyment of a superior product. Extend the beauty of your home and your commitment to quality by making a great purchase in outdoor furniture.
Teak Outdoor Furniture in Ottawa
To find your piece(s) of outdoor furniture in Ottawa, count on Mostly Danish.
We've got one of the best selections of teak outdoor furniture in Canada, both in our Ottawa outdoor furniture showroom as well as on our website.
Get in touch with Mostly Danish today, and get started on your new collection  - or expand your current collection - of quality outdoor furniture.