Painting vs. Staining Wood Furniture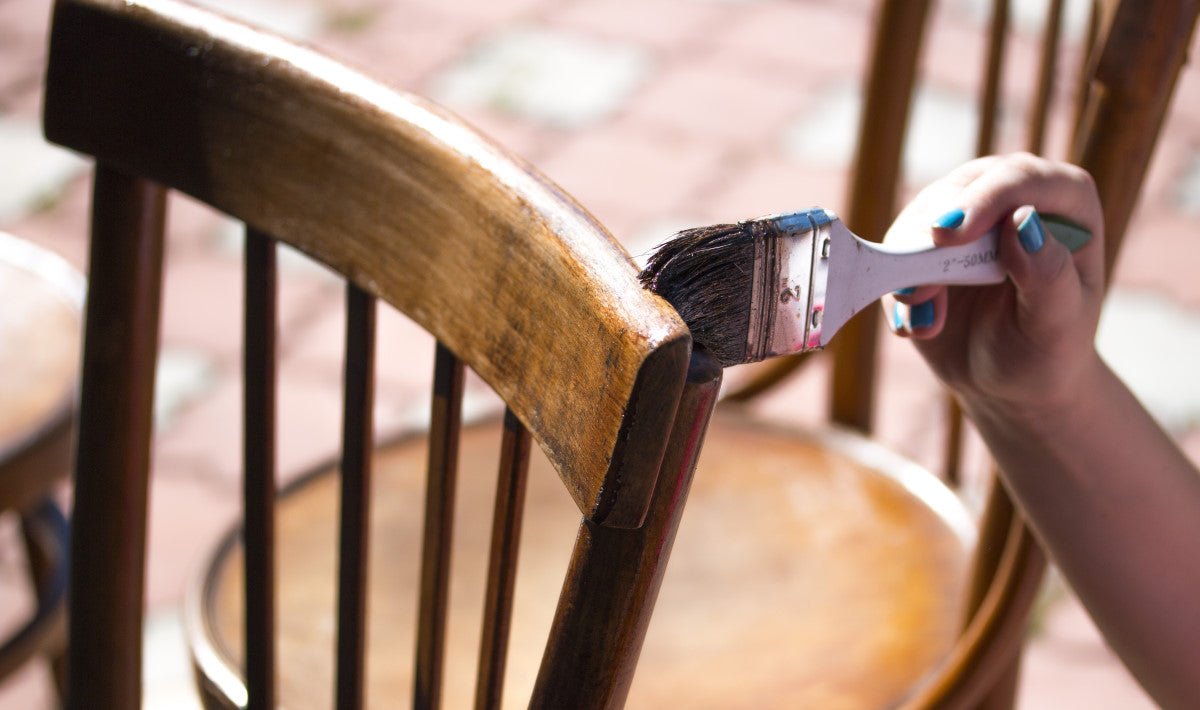 Before starting a furniture redesign project, you need to know what type of style you are trying to achieve.
Are you looking to simply enhance the look of a piece of furniture, or want to completely change it up? Answering this question will help you figure out what materials you'll need so that you can be fully prepared to undertake the project.

There are endless options on the market when it comes to wood finishes, but the most popular choices remain to be wood paint and stain.

Many people don't realize the difference between the two products and use them interchangeably, which could cause the newly finished furniture to turn out different than what was expected.

Learning the differences between each material and the benefits of both will save you from encountering any surprises, ensuring you get the outcome that you're trying to achieve.
What Are the Differences Between Wood Paint and Stain?
Deciding between choosing a paint or stain finish for wood furniture can be tough.

When you place opened cans of paint and stain side by side, you'll immediately notice a great difference. While both products are sure to alter the color of the wood furniture, that's where the similarities end.
The first thing you'll notice is that the stain has a thinner consistency than paint, which will allow it to penetrate the wood rather than just stay on the surface as the paint does. Stains are a mainly latex-based solid color and are used to enhance the natural color of wood furniture.
On the other hand, paint is a tad more expensive but comes in a wider variety of colors to choose from. Painting the surface of the furniture will conceal the natural components of the wood and can give it a matte or glossy finish. 
Benefits of Using Wood Stain
One of the biggest advantages of using wood stain to finish your furniture is that it doesn't cover the look of your pieces.

Unlike paint, the stain doesn't require too many coats and has a faster drying time. Each type of wood has its own distinct, beautiful grain pattern that is unique to its species.

Natural wood stains contain pigments that penetrate the wood and add definition and contrast to the grain designs. The binding agent found in the stain will seal the wood and block out any moisture that may try to seep in. 
Benefits of Using Wood Paint
Painting wood furniture will not only give the piece a new look but will also ensure that its characteristics are effectively preserved.
Solid wood furniture is easily scratched by objects, which causes it to lose its texture after some time. Painting the surface can protect it from damages and prolong its life.

Similar to how wood stain creates a seal against moisture, wood paint does the same job. Having a layer of paint on the surface will prevent moisture from penetrating and keeps internal moisture from evaporating. 
Rejuvenate Your Priceless Wood Furniture 
Thinking of giving your precious wood furniture a new look?
Solid wood furniture will experience some wear and tear after a period of time, but that doesn't mean their beauty can't be preserved.
Whether your furniture needs to be refinished, repaired, or reupholstered, our wood furniture restoration specialists strive to deliver the highest quality results.
Reach out to us today to learn more about how we can get your wood furniture looking brand new.
Or if you're looking for new furniture altogether, that's an option too. From armchairs to kitchen tables, loveseats and outdoor furniture, we have plenty of options available on our online store.