Curating a Mid-Century Modern Design Collection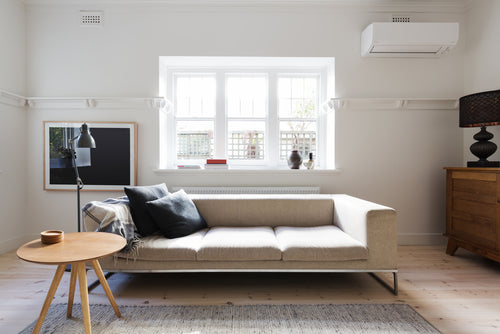 Are you a Mid-Century Modern aficionado?
Do you idolize the Danish design movement and its heroes such as Hans Wegner, Arne Jacobsen, Kaare Klint, Finn Juhl or Børge Mogensen?
Could you see yourself fulfilling your Mid-Century Modern fantasies by living life on the set of Mad Men?
If that's you, you're one of us! Welcome to the Mid-Century Modern Club.
If you're yet a devoted fan of Mid-Century Modern, but are intrigued, read on to discover the Danish design movement so many of us are in love with, especially when it comes to Danish design furniture.
Defining Mid Century Modern
In a previous article we talked about some of the defining, hallmark characteristics of Mid-Century Modern furniture designs. These include:
Colours: A bright touch here & there – but in moderation
Materials: wood (especially teak), plastic, metal & glass
Lines: Clean and smooth rule the day
Texture & Pattern: Geometric shapes, clean lines & graphics
True enough, this is Mid-Century Modern furniture & design.
But what makes it mid century or modern?
Coming out of the Second World War, Europe went through a period of austerity. Simple and functional were more important, practical and possible, as opposed to flamboyant.
While the post-war recovery and boom happened faster in the US, it took a bit longer for Europe to catapault forward.
Still, it was in the middle of the 20th century, essentially, that aesthetics and form began to rival function in design. By the 1950s this design movement was setting foot in northern Europe, particularly among the Scandinavian designers and most notably in Denmark.
These modern design elements and ideas were embraced by the avant garde and those who appreciated aesthetics, fine art, and nuanced aspects of design that would take us out of 'boxy' and 'rigid' to produce furniture, textiles and architecture that were nothing short of a quiet revolution in modern design.
The Mid-Century Modern Lifestyle
At this point it was no longer just about buying a piece of furniture. It was about curating a design collection that reflected a lifestyle.
People not only in Scandanavia but across the world began to see chairs, tables and sofas as something beyond the mere sum of their functionality, but a means to create an aesthetic and ambience that could make people feel elevated in their lives.
This was an appreciation of aesthetics & design that had been absent for decades.
The Mid-Century Modern lifestyle grew as the prosperity of the western world grew. We were able to enjoy the finer things in life once again. The lifestyle extended to areas such as:
Fashion
Accessories
Food & Beverage
Travel
And much more.
If you absorbed every fine detail of the Mad Men series and were enthralled with its embrace of the Mid-Century lifestyle, you may be dismayed with what we see today.
The IKEA furniture and disposable, fast lifestyle that has replaced our beloved Mid-Century Modern movement is a far cry in many ways from the aesthetics and ambience of those special days.
Own a Piece or Curate a Collection of Mid-Century Modern Furniture
Thankfully, Mid-Century Modern design still holds some influence in our post-modern society, and elements and remnants are available for your curation.
Nowhere can we think of finer example of this than in Mid-Century Modern furniture.
At Mostly Danish furniture in Ottawa, we've amassed a collection of furniture designed or influenced by the Danish Mid-Century Modern greats.
Browse our selection online or visit our furniture showroom in Ottawa.
If you have a special piece in mind, let us know so that we can source it for you.
Should you have any questions, don't hesitate to contact Mostly Danish today.