What Is Live Edge Furniture?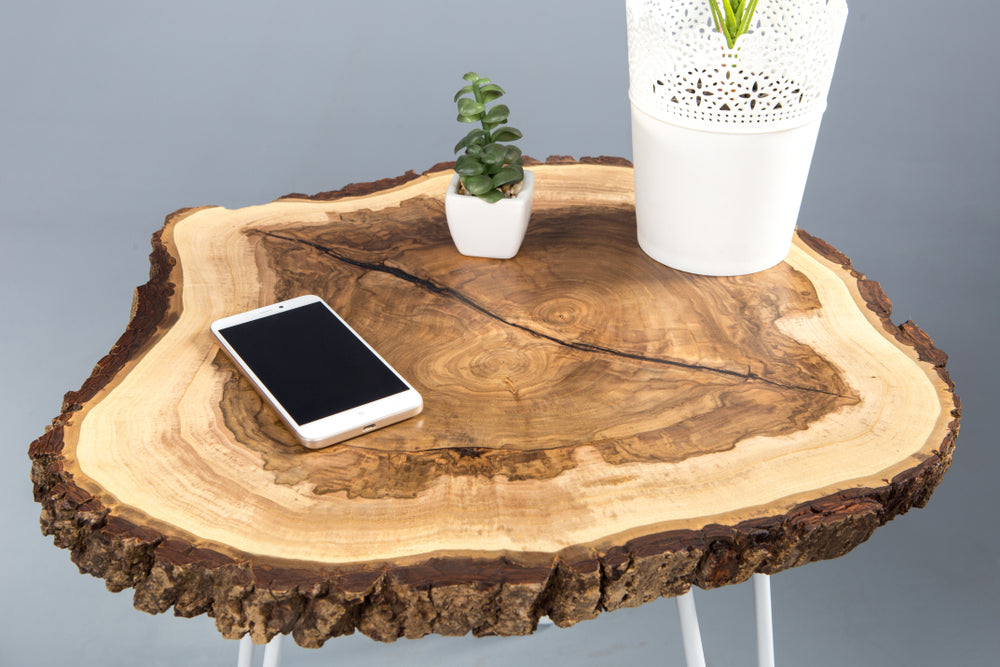 Live Edge Furniture (aka "Natural Edge Furniture") is gaining popularity these days, melding the worlds of both rustic, antique furniture with modern design furniture.
What exactly is live edge? And why is it a highly desired style of furniture?
That's what well cover in this edition of the Mostly Danish furniture blog.
Live Edge: You Know It When You See It
No matter what words we might use to describe what "live edge furniture" means, the best way to get a clear picture of live edge is through… a picture. Like the one at the top of this article, and the others throughout.
Live edge is one of those things that you know you've seen, but maybe weren't sure what it was called.
"You know it when you see it" is what we once overheard one customer saying to another customer in our Ottawa furniture showroom (where we have live edge furniture on display and for sale).
Indeed, she was right!
As soon as we walked the customers over to a live edge table, the second customer remarked, "ohhhh, so THAT's live edge!"
Yup. But since we're here, let's explore in words as well as in pictures the phenomenon known as live edge.
Live Edge Furniture: More Than Rustic
Live edge furniture, in a nutshell, is furniture where a portion of the furniture exposes the profile of the tree from which the wood came.
And that profile is, as you have probably deduced from the name, seen on an edge of the piece of furniture - be it the side and/or the top.
Look at a live edge table, for example, and instead of a rounded, polished edge, you'll see a table edge that more closely resembles the trunk or inside of a tree.
The paramount feature of live edge furniture is that it brings out the natural beauty of the wood, evoking a "live" feeling of its tree source.
Live edge is sometimes used synonymously with "rustic furniture." And indeed, some rustic furniture is live edge, revealing entire swaths of tree cross-sections. But not all live edge furniture is rustic.
The beauty of live edge furniture is that it is compatible with a number of schools of design in the furniture trade. From Scandinavian design furniture to modern and retro furniture, live edge options are available in many different objects, shapes, sizes, configurations and designs.
Why Live Edge Is Popular Nowadays
Perhaps the biggest factor fueling the popularity of live edge furniture in Canada and around the world these days is an underlying (and sometimes overwhelming) desire to get "back to nature."
So many of us have been victim to corporate, soulless furniture design, the kind most of western society has been stuck with in offices for much of our waking and working lives.
Instead of having furniture at home that reflects that same bland, corporate vibe, live edge furniture offers an entirely new dimension in design, appearance, functionality and feeling.
By exposing the living part of the tree – the outer rings, knots, grooves, veins and imperfections – live edge furniture reminds us that we're getting a one-of-a-kind piece furniture.
Having a live edge dining table or coffee table in your home, for example, evokes the "live" sense of the tree from whence this unique table came, and allows you, your family and your guests to experience a sense of nature, calmness and beauty.
Many companies have installed live edge boardroom tables, searching not only for unique pieces but using live edge furniture to evoke those same senses for their staff.
Live Edge Furniture at Mostly Danish in Ottawa
Being furniture design aficionados, we are most certainly fans of live edge furniture.
We've sourced and sold many live edge pieces over the years, from live edge dining tables and coffee tables to boardroom tables and even live edge chairs.
Feel free to browse our furniture selection online or in our Ottawa showroom.
If you don't see the right piece of live edge furniture for you, or if you have a specific style or configuration of live edge furniture that you're looking for, please contact us today so that we can find it for you.