Backyard Ideas - Teak Outdoor Furniture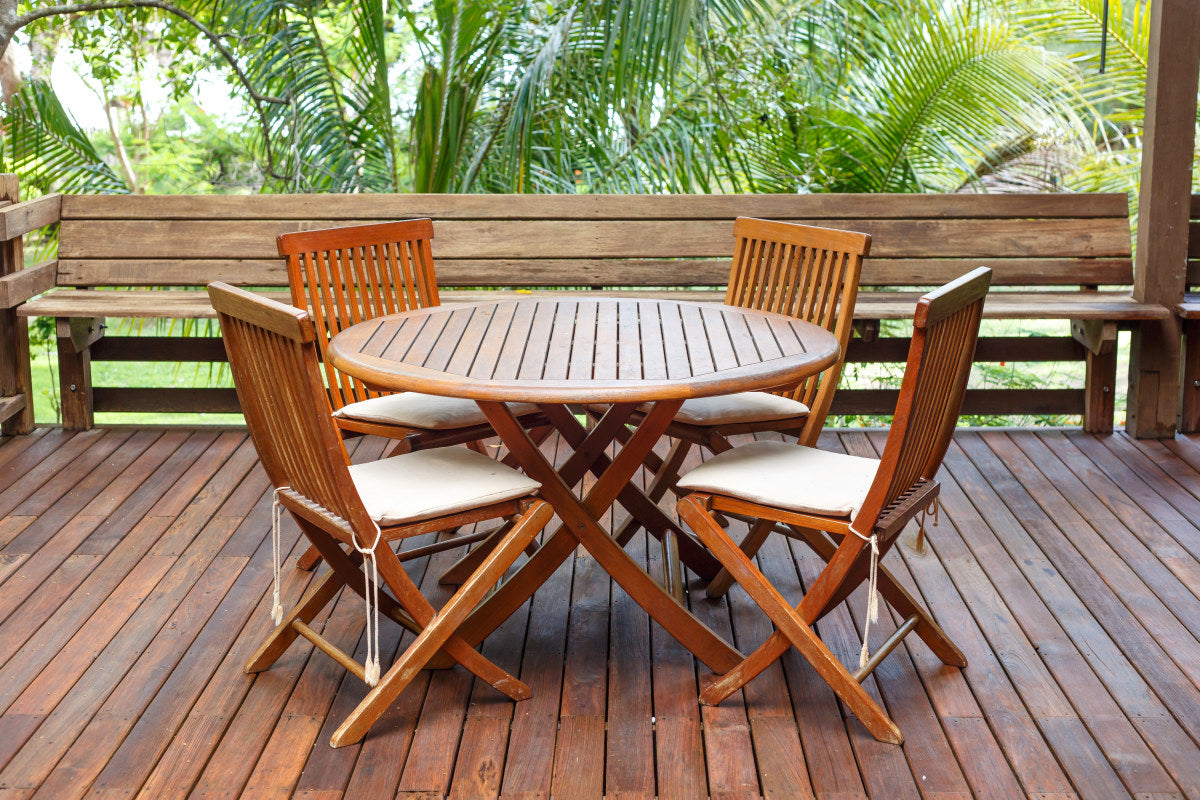 When the pandemic hit, backyards and patios that served as a nice feature or perk turned into a necessity. 

Outdoors spaces gave everyone a reprieve from being stuck at home all day, and spending months at home drove people to come up with creative designs and renovations to elevate their backyards and patios.
Having a comfortable yet attractive-looking backyard has become a priority for many as the pandemic doesn't seem to be ending anytime soon.

Whether you have a modern-day house or a terrace overlooking the river, you could never go wrong with adding teak furniture pieces to your outdoor space.

Teak has been a popular choice for outdoor furnishings for years due to its beautiful colour and durability, not to mention the wide variety of styles available to choose from. 
What Makes Teak Furniture So Desirable?
Teak furniture is timeless and is made to last for years to come. Its warm and distinct honey-coloured wood makes it stand out from all other patio furniture, but its desirability isn't just because of its beautiful colour.

Besides its stunning colour, teak outdoor furniture is known for its hardiness. The anti-moisture properties of the wood will prevent any warping or cracking, allowing it to handle anything that mother nature throws its way.

The natural oils in the teak will also ensure that when the colour does eventually fade, it will do so evenly, leaving behind a lovely warm copper colour.
One of the biggest threats to backyard furniture is insects, specifically termites, turning beautiful outdoor furniture into a beat-up mess.
Thankfully, the natural oils found in the teak act as an insect repellent, forgoing the need to spray harsh chemicals to keep the pests away. 

Teak's natural honey-brown colour doesn't require any stains or paints to make it look polished and charming. As the years go by, it will fade only to a more beautiful colour. The oils in the wood will also keep the piece supple and strong.
How to Tie In a Space With Teak Outdoor Furniture

The biggest mistake people can make when designing an outdoor space is that they forget they're outdoors and not indoors. Using furniture such as living room sofas, coffee tables, and even fake plants is not the way to go.

Although it's always good to try and have a seamless transition between indoors and outdoors, it's important to remember not to get too carried away.

There is a wide variety of patio furniture you can choose from, ranging from plastic, metal, wicker, and resin, but at the end of the day, nothing can beat the price, durability, and look of teak furniture.

Creating a smart design for your patio starts by establishing a focal point. This piece will attract more attention to a more favourable part of the space and can act as a point of interest. Patio focal points can be anything from fire pits to a pair of brightly coloured chairs.

Outdoor furniture pieces don't necessarily have to match, but there needs to be something that brings them together, whether it's the same materials, colours, or scale.

When looking to tie in a space with teak furniture, start by choosing a colour palette that will complement both the dark wood and the outdoor space itself.
Greens, blues, and reddish-orange colours pair nicely with the colour of the teak, so consider picking out accessories that are similar to these colours.

Finally, be careful not to overcrowd your backyard. A space that was once inviting and cozy can easily turn into a disorganized and cluttered area. When designing your outdoor space, make sure there's enough space to walk and that you choose furniture that can fit properly. 
Elevate Your Patio With Teak Outdoor Furniture 
For years teak has been the top choice for outdoor furniture and it's clear why it stands out from all other outdoor furnishings.

The naturally occurring oils in the wood protect the furniture from all types of weather as well as any insects and pests that may try to eat through it, allowing you to enjoy the pieces for years to come.

Our selection of outdoor furniture at Mostly Danish is everything you need to bring your patio or backyard to the next level. Besides being extra durable, our teak furniture will add a touch of classic mid-century design to your home, giving you a unique and timeless look.
Reach out to us today
to check out our selection of outdoor teak furniture and enjoy your summer in style.